Oil Change

$24.95

Diesel Oil Change

$99.95

2-Wheel Alignment

$49.95

Tire Rotation

$15.00

Tire Rotation and Balance

$39.95
Customer Reviews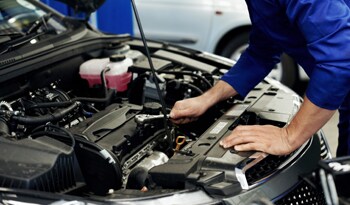 Gray-Daniels Ford Lincoln is not your typical dealership. We take our customers seriously and treat every customer with the greatest respect. This can be seen in everything we do. From the certified mechanics who are experts in their field to the trained service advisors who help customers understand repairs, we have the expertise and staff to make your repair visit exceptional. All of our mechanics have the ability to work on all makes and models of vehicles.
Serving
Brandon

,

Jackson

,

Pelahatchie

,

Pearl

We're proud to serve our Brandon, Mississippi, customers, and we know what it takes to prepare vehicles for the unique climate residents experience. We place a high value on providing customers with superior service that includes high-quality parts and excellent customer attention. We know we're in business because our customers continue to choose us, and we won't settle for anything less than complete customer satisfaction with each repair job.

Our mechanics and service center have the ability to respond to virtually any repair request. It doesn't matter if you need something as routine as scheduled maintenance or a more complex issue like a complete engine rebuild. We can get your vehicle fixed up and have you back on the road in no time. We make sure to double-check our work, and we always run a complete diagnostic. This way, you don't have to keep coming back for repairs on issues that should have been caught the first time around.
Automotive Service
We believe that a vehicle should only use original equipment manufacturer (OEM) parts because these are the parts that your vehicle shipped with. Lots of money goes into research and development when a new car is released, and the professionals who design cars consider these issues when releasing a new model. Part of the cost of a vehicle includes an amount that goes to cover past and future research into the best ways to construct a vehicle. The parts that ship with the car are designed to be used with your specific vehicle and model.
When you use aftermarket parts, you're not always getting the best part for your vehicle. Some aftermarket parts may lack safety features, and other parts may not include a warranty. When you come to the dealership for your repairs, you're getting the full backing of the dealership. You will also have the peace of mind that you're getting a full warranty.